After months of paper and orders coming and going from our studio, we finally decided to gut and put it back together. This is the first time in about a year I've permitted my 3 year old on the premises, and the virgin tour for my 18 month old.
The following ensued: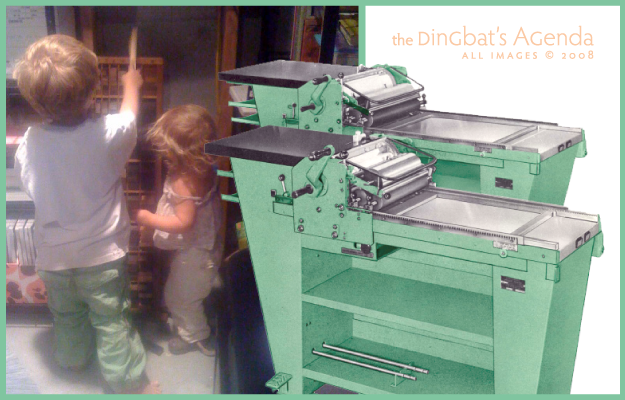 "Mom"
"What's deeze things called?"

"Burniture? Whats it used for?"

it's used to lock up the form on the press so the letters don't move when I print
"Is that press that big old honkin thingy you work on?"

yes, it's called a letterpress
"Can I go to work on a letterpress when I'm big like daddy?"

"Okay...but mom? Evelyn's messin up the burniture. She doesn't know how to put them back in the right spots."

that's okay, she's just a baby.
"Well, she can't play with my letterpress until she learns how to put the burniture back in the right places, okay?"
"Thanks mom, I like these drumstick burnitures, can I go play Rock Band with these?"